A guide to Switzerland
09.12.2021 – JÜRG STEINER
The content is concise and, for the most part, unsurprising – which is probably why reading it has a deeply calming effect. No word is wasted in any of the short, dry, assiduously proofread sentences that the authors use to condense the essence of Switzerland into 170 pages. Still, the book even manages to devote a few lines (on page 151) to the Covid-19 pandemic and the contentious role of the Federal Office of Public Health (FOPH).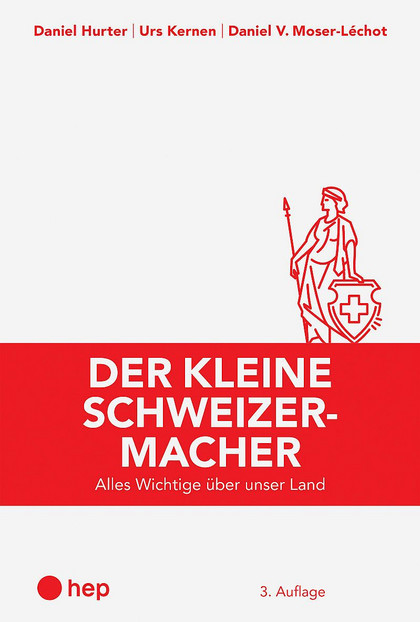 Daniel Hurter, Urs Kernen, Daniel V. Moser-Léchot: Der kleine Schweizermacher. hep Verlag, Berne. 2021. Third edition. 170 pages. CHF 29. Only available in German.
"Der kleine Schweizermacher" (Guide to Switzerland) – embellished with the subheading "Alles Wichtige über unser Land" (Everything you need to know about our country) – has an ominous tone when you consider that Swiss director Rolf Lyssy criticised Swiss immigration policy in his similarly titled 1978 film "Die Schweizermacher". The book – now in its third edition – basically turns things around by presenting to Swiss readers the material that they would be advised to study if they had to take a citizenship test themselves.
Most people would be familiar with the book's contents. Nevertheless, imagine if there was a referendum and your daughter, just turned 18, was about to vote for the first time. You would be glad to have this straightforward guide to help you answer her questions. Finding the right words to explain the many facets of Switzerland to your loved ones is often far from easy. And yes – when reading the book, you get a good idea of what it really takes to pass a citizenship test.
Some slightly outmoded gaps in information cannot be ignored. For example, the entry on literature mentions four men – Francesco Chiesa, Charles Ferdinand Ramuz, Max Frisch and Friedrich Dürrenmatt – but no one else.
However, entries such as the one on insurance are most insightful. The three authors refer to a "mentality of wanting to protect yourself against all risks in life". That is why the Swiss like to "take out insurance policies that make little sense or are already covered by other policies". The authors' verdict on church bells is just as pithy: "While many love this tradition, some consider church bells a noisy nuisance." Switzerland in a nutshell – for both Swiss and non-Swiss.