A chamber orchestra takes off
10.07.2019 – Christian Berzins
Less than ten years ago, the past of the Zurich Chamber Orchestra (ZKO) was being cast in the best possible light. However, its future appeared to be unclear. Even in 2015, by which time Roger Norrington had been at the helm of the orchestra as principal conductor for four years and had spurred it on to outstanding performances, not many Zurich locals realised just how magnificent the orchestra really was.
It is difficult to understand as the ZKO was the contemporary 'straight-A student' among the Swiss orchestras of that time. And then when Norrington stepped into the hall one fine evening and said: "I'm done!", the ZKO indirectly experienced its big bang event. Everything was set up; it just needed a new leadership to say, "Let's get going!" In autumn 2016, the orchestra found what it was looking for in the violinist Daniel Hope, a world-renowned, ambitious musician who communicated with the public via many different channels.
CD recordings were just as much a part of the business for this artist as taking a bow after the concert. The ZKO had barely tuned its instruments for the first time before the microphones stood ready. Accolades for its performances came thick and fast after this, such as for the CD "For Seasons". At first, it is just an extremely lively recording of Vivaldi's "Four Seasons". However, then the year begins anew for Hope and his orchestra, and you set out on a twelve-part journey through the twelve months with music that ranges from the early 1800s to the present, and is continued in photographs and pictures.
The CD "Bach & Sons 2" is more moderate. Under the leadership of German pianist Sebastian Knauer, the ZKO shows itself to be a motivated baroque formation. The piano concerts of J.S. Bach are combined with those of his sons, Johann Christian and the wonderfully playful Carl Philipp Emanuel. The most beautiful ZKO CD is "Journey to Mozart", in which Hope explores the world around Mozart. "This CD is a reflection of the age as I see and hear it," he says. Hope plays and conducts works by Gluck, Myslivecek, Solomon and Mozart. Even the great Haydn is included. "Haydn's concert in G major is a jewel," enthuses Hope; "however, Mozart's is a revelation. Haydn's work remains rooted in beauty, whereas Mozart's takes off". Like the Zurich Chamber Orchestra.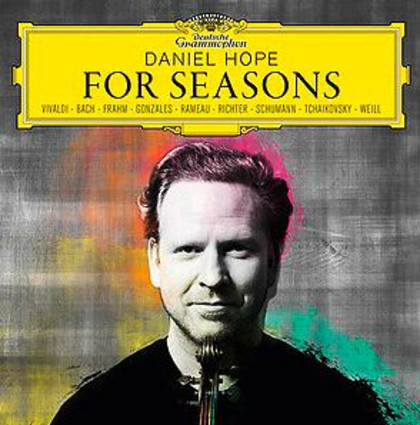 For Seasons: DG 2017
BACH & SONS 2: Berlin Classics, 2017
JOURNEY TO MOZART: DG 2018