840,000 tonnes of concrete
04.02.2022
The Spitallamm dam built in 1932 closes off a small rocky gorge in the Bernese Alps. Behind it lies the five-kilometre long Lake Grimsel.
Marc Lettau, Editor-in-Chief
Over the years, the dam has evolved into 840,000 tonnes of concrete in the shape of a 114-metre high monument, a reminder of when Switzerland met its growing demand for energy by damming up mountain streams and turning them into lakes providing water to power the turbines in the valley below and generate electricity.
The Lake Grimsel dam does not currently look quite as undisturbed as it appears on our cover. A new, leaner arch dam is being constructed just in front of the old one. On its completion, probably in three years, the old dam will be flooded. Then the new construction will have to hold back the lake's considerable water pressure. Lake Grimsel will thus remain a reliable source of electricity production over the coming decades.Times have changed since 1932. Nowadays major hydroelectric projects are harder to get off the ground in Switzerland. Conservation and landscape preservation groups strongly oppose plans to erect new mountain dams or to use free flowing rivers for electricity generation. The use of hydropower has attracted growing criticism over the years.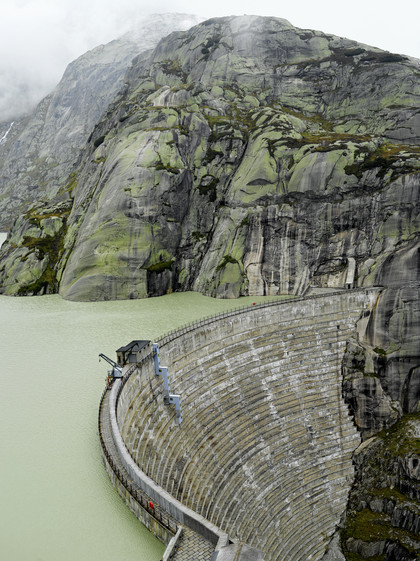 The Spitallamm Dam on Lake Grimsel in the Bernese Oberland was built over 90 years ago. Photo: 13 Photo AG, Claudio Bader
People are now more aware of how hydropower can exert a negative impact: dam construction is detrimental to nature, it submerges landscapes, takes water away from rivers, changes the natural hydrology. This edition's Focus article explains how hydropower expansion in Switzerland is being limited for those reasons.
This raises an issue, given that Switzerland is looking to increase its use of renewable, CO2-free energy sources, i.e. water, wind and sun. The conversion process is proving to be anything but straightforward. While Switzerland has a tradition of constructing all types of large power plants, it is less effective when it comes to decentralised, small-scale solar energy use. The gap between knowledge and action in this area is sobering to say the least. In fact, many Swiss municipalities have accurately calculated how much solar energy shines onto the existing rooftops. This often exceeds the needs of the municipality's inhabitants. In spite of that, new constructions can still be erected without solar panels on the roof. It is this type of inertia that makes the lack of support for new dam construction in Switzerland more understandable.