Charles Linsmayer | 150 Swiss portraits
29.07.2016 – RUTH VON GUNTEN
Who is familiar with names like Lore Berger or Jonas Fränkel? Probably only a few people in the know or bookworms. It is a different story with Robert Walser or Max Frisch, names probably all of us have heard at some point in our lives, and whose works we may well also have read if we went to school in Switzerland.
A book has now been published containing 150 brief profiles of figures on the Swiss literary scene from all four language regions from the 19th century to the present day. Charles Linsmayer puts the authors in alphabetical order and dedicates two pages to each of them. All the entries are structured in the same way. In concise terms, Linsmayer outlines their literary works and provides a brief overview with short biographical details and distinctive features. He has an excellent understanding of how to put works into their historical and literary context. With original inserts, Linsmayer also allows readers to explore the texts directly. A concise bibliography completes each profile.
The book is a reference work, but also a lucky bag of Swiss literature. It includes poets and writers who have long since been forgotten and whose works are out of print. However, it also features contemporary authors, such as Melinda Nadj Abonji, whose novel "Tauben fliegen auf" (Falcons without Falconers) won the German and Swiss Book Prizes in 2010, and Adolf Muschg, one of the greatest writers and thinkers in modern-day Switzerland.
About Werner Renfer, who died in 1936, Linsmayer writes: "What a subtle writer and great, incredibly modern poet he is." This immediately provides inspiration to read his poems. The same goes for Anita Siegfried, born in 1948. Of her novels Linsmayer notes: "She achieved a further peak in her writing in 2007 with 'Die Schatten ferner Jahre'."
The profiles are wonderfully complemented by photos taken at the Hottingen literature debates by Manfred Utzinger and author photographs by Yvonne Böhler. The book is highly recommended for anyone who is or would like to be inspired by Swiss literature.
Charles Linsmayer, born in 1945, lives in Zurich and is a leading Swiss literary scholar. After studying in Zurich and Berlin, he worked as a grammar school teacher, publishing editor and journalist. Still an active literary critic, publicist and cultural mediator, he also writes regularly for "Swiss Review".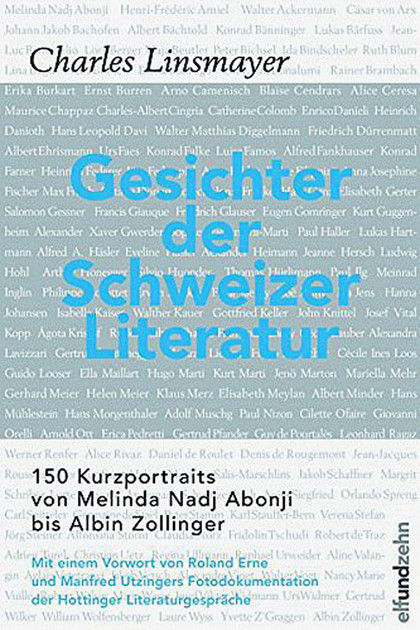 Charles Linsmayer: "Gesichter der Schweizer Literatur". Elfundzehn Verlag, 2015; 311 pages; CHF 43.90